Finished

TAIPEI PACK in Taipei, Taiwan

2021/12/14

Our machines will be displayed in our distributor's booth in TAIPEI PACK.
*Please note that POLYSTAR's staff do not attend this exhibition this time.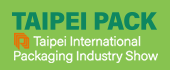 URL:https://www.taipeipack.com.tw/en/index.html
◎Our distributor in Taiwan
Company name: WOEI CHERNG MACHINERY CO., LTD.
URL:http://www.woeicherng.com/
Address:No.8, Dapo, Xinwu Dist., Taoyuan City 32745, Taiwan
TEL:+886-3-4769979
FAX:+886-3-4760911

◎Show Dates
FROM Dec. 22nd (Wednesday) TO Dec. 25th (Saturday), 2021
◎Place BOOTH NO. P1209 in TAIPEI NANGANG EXHIBITION CENTER (Hall 2)
If you have any questions and inquiries, please do not hesitate to contact us.
We are looking forward to seeing you soon!
NIPPON POLYSTAR CO., LTD. Main office & Factory TEL:+81-(0)748-77-6262 FAX:+81-(0)748-77-6662 info@nippon-polystar.co.jp Overseas Business Department

A list of news